Fun Ways To Make Money Online From Home 
There are many fun ways to make money online from home and one of the amazing things about the internet is that it opens you up to limitless possibilities for ways to make a living online. Whether you are looking to completely replace the income you make from your full-time job, or just want to create a small side-hustle that pays down the debt, it is doable, and it can be fun too!
The trick with it is to find a niche that you are truly passionate about and decide on how much time you want to invest into it. You can spend as little as one hour a day or even a week and make money or you can spend as much as thirty to fifty hours a week, depending on how much you want to earn. In this article, we are going to introduce you to ways to make money that are fun and that can be done from home.
10 Fun Ways To Make Money Online From Home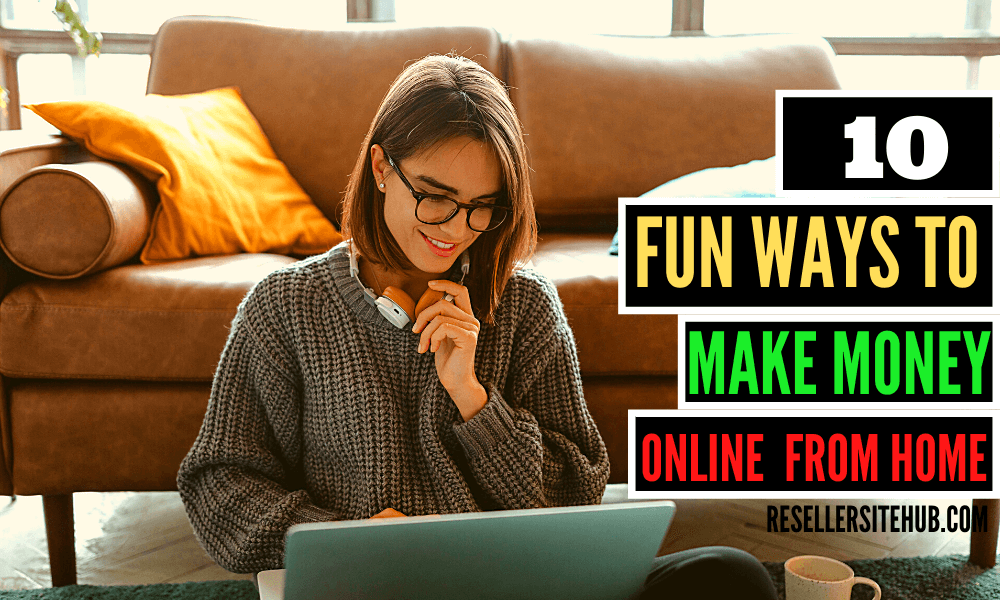 1) Consider Testing Websites. If you tend to use the internet a lot and like to browse numerous websites, you might enjoy testing websites as a way to make extra money. While you might not be able to turn it into a full-time job, it can be used to rack up a couple hundred a month to pay down debt, spend as "fun" money, or even pay small non-recurring bills. While this is a relatively new method, there are plenty of websites out there that allow you to enroll as a tester. What's fantastic about this is you can test on desktop or even on mobile devices and you do not need to be technically inclined.
2) Super Organized? Consider Being a Virtual Assistant. If you are someone who is always plugging events into your Google Calendar or reorganizing your email to make it easy to use, you can create a nice side-business out of this. A lot of people will pay others to complete small tasks like scheduling appointments, managing social media accounts, or even responding to emails. You can even start your own Virtual Assistant Business from home by outsourcing other people See here the Full List Of Resellers Businesses That We have Ready For You!
3) Jump into Dropshipping Digital Items. Dropshipping is where you have a store front and when an order is made, you purchase the item from a third-party and have it shipped directly to the consumer. While dropshipping is considered a retail fulfillment method, it has some major advantages in that you keep no stock of your own, less capital is required to start a dropshipping business up, and it is very easy to get started. Plus, you can easily scale the business if you like it and sell a wide selection of products.
4) Are You An Expert in Something? Maybe you have a unique way of doing something that is incredibly efficient or gets good results. Or maybe you are an expert at something because you spent years on it either on your own or in school. You can get paid for your expertise by creating and selling online courses. You do not need a website, a blog, or even capital to get started. If you have a video recorder, a microphone, and access to a computer where you can upload your content – you can create a course. Just don't forget to separate it out into bitesize sections that are easy to understand. Then find the platform of your choice, like Udemy or Teachable and upload.
5) Do You Speak Native English? If you do not mind being on camera and are qualified to work with children, you can teach English from home. Websites like VIPKid, QKids, ITutorGroup, and TeachAway allow you to earn money by teaching children in international countries, how to speak English. Some of these do require you to have a degree, while others do not. If you would like the flexibility of setting your own schedule and your own rate, definitely consider this option! It can be a ton of fun too, helping out those who want to learn.
6) Are You Good With Grammar? If you are looking for fun ways to make money online, this is definitely one of them. If you are good with grammar, other people will pay you to proofread their documents. This can be short fiction, novels, novellas, term papers, and even poetry. You can even expand on this and proofread websites, blogs, and courses. Everyone needs their content read and checked for mistakes, might as well get paid for it!
7) Enjoy Being on Social Media Platforms All Day? If you do, you can make some nice money doing social media management work for those who either cannot be bothered or don't know-how. Keep in mind though that being a social media manager will require you to use some strategy around getting scalable engagement, so make sure to know your stuff before you start offering these services to others.
8) Do a Lot of Research Online? If you are someone who constantly has a browser tab open to Google Search, consider switching it to Swagbucks' online search function. You get rewarded with Swagbucks points for doing searches (randomly) which can be redeemed for money, gift cards, and prizes. While it may not be enough to be a part-time job or a full-time income, it is extra that is a lot of fun to make!
9) Become a Freelance Writer. If you are really good at putting together ideas in a cohesive format, there are plenty of online bloggers and businesses that will pay you for written content. While freelance writers do not work for anyone specific company, they do contract out their writing skills to many. To become a freelance writer, you can either build up a portfolio and create a website to showcase it, start up a blog of your own, or use writing job boards to find clients.
10) Run an Online Shop. What's fantastic about running an online shop is you can sell all kinds of items. Many people will create small hand-made items to sell, others will create designs and sell them on t-shirts, while others sell their artwork. Depending on what you have an interest in and what your skills are, you can make money from home doing this.
The one thing to keep in mind with all of these fun ways to make money online is that they take dedication, motivation, and discipline to get them going. You will need to research various niches, possibly set up a website, and look for opportunities to learn about the method you have chosen. If you are looking for a more passive way to make money from home in 2019, you should consider becoming a reseller.
An online reseller is an individual that finds good deals on services or products and resells them at a higher price for profit. It is a type of business that requires little capital to get started, has low costs associated with it, and has limitless possibilities in both financial scalability and items to sell. If you would like to learn more about making passive income as a reseller, check out our website at Reseller Site Hub. We offer reseller programs for digital services that are in very popular and in-demand niches, which will set you up for making passive income. See Here The Full List Of Reselling Businesses For Sale