One of our clients, Daniel, kindly agreed to give an interview and to tell a bit more about his young yet promising email marketing reseller business. Feel free to ask any questions in the comments' section, and to share your own success stories with us!
Tell Us little bit about yourself?
I have been in business most of my working life having owned several franchises..I was also in the Vending business as an owner operator of 50 drink and snack vending machines. Recently, I sold my Subway Franchise and Vending Machines and now work full time online. This allows me to spend more time with a young family and not have the constraints of having to live in a specific location.
Have you ever had any experience as an online marketer?
No I have always been in small business but nothing to do with Digital Products and Services and outsourcing. So I was accustomed to doing everything myself.
 Who is your target customer?
Well we offer Email Marketing Services so the target customer is anyone who need to drive traffic to their website or business. Emailmarketingcode.com
How did you hear about our product?
I heard from a friend who has 3 reseller sites and is now doing this full time as well..I have just bought 2 more sites and have a rapid and aggressive expansion strategy.
Why did you choose this niche? Email Marketing?
I thought it is the one type or marketing that most people can understand and apply to their business.
What challenges were you facing and what motivated you to solve them?
The main challenge was where do I start with regards to driving traffic to my site…
I found that it was easy to convert traffic to sales and I actually had very few enquirers because visitors to my website understood what I was offering and the ordering and delivery was easy too..I now understand how to use Social Media to drive traffic to my site and this is all I really need to focus on…the rest is just forwarding emails.
 What is your top marketing strategy ?
Find what suits you, in terms of social media marketing and stick to it…then you will do well. I don't get distracted with what I am not good at. I am also looking at outsourcing marketing to drive traffic to my sites. Facebook is enormously powerful, especially when you are able to join thousands of business groups and interest groups..and you don't have to use your own personal account.
 How many sales you're making now and how long it took to get there?
I started with about 3 sales in my first week, then nothing. My profit is $84 per sale this is low compared to the 2 other sites I have just purchased..But is stuck with it and began driving a lot of traffic using Facebook and Instagram. Now I am doing up to 10 sales a day, around 40 sales a week on average..this is very lucrative considering that you have no physical product and it is all outsourced and easy to run.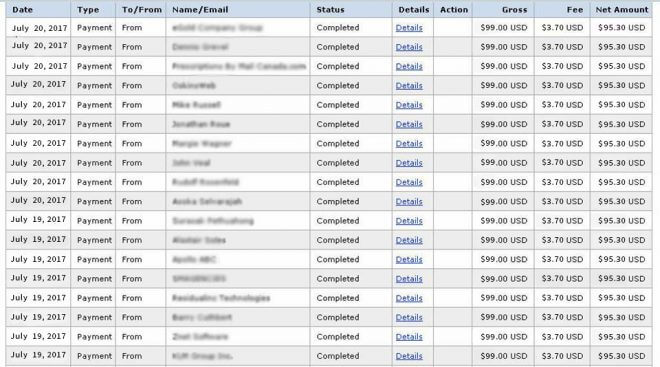 What have you learned from working with us?
Probably just to have faith in the marketing materials provided and to stick at it..don't give up or stress about your weaknesses.
 Where are you headed as a business?
I have formed a new company based on running a portfolio of Reseller Business Websites. My aim is to outsource everything but remain in control of where the business grows and takes me.
What has been the best thing about working with our company?
Well, probably learning that there are no limits to growing a digital business and I can live anywhere in the world and operate my business..I have so much faith in your business models.
What would you say to other businesses facing the same challenges as you did?
Don't give up, follow what works for your, don't stress about your weaknesses and dream big.