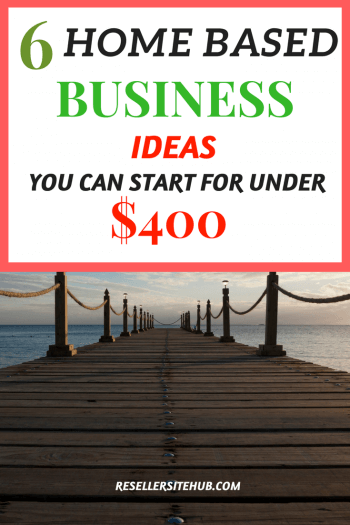 Home Based Business Ideas!
The best home based business ideas have a few things in common. First, they let you work from the comfort of your own home. Second, they solve a problem that a significant portion of the population has. Third, they are relatively easy to run. Fourth, they provide a good income for you and your family.
Finally, they have a low barrier of entry that doesn't cost an arm and a leg to get started. Check out these six home based business ideas. They meet all the criteria above and can transform you from a worker at someone else's company into a small business owner who creates his own wealth and controls his own destiny.
1) Create & Design Information Products
If you're adept at a particular subject or genre, you can earn a respectable income creating information products, infographics, and eBooks. It's a great way to put your knowledge and design skills to work for you designing lead magnets and giveaways for online business owners.
What You Need To Get Started
a) Laptop or desktop computer
b) High speed internet connection
c) Graphic design program
2) Furniture Flipping & Upscaling
Do you love browsing through thrift stores and unearthing cool items? If you have a knack for seeing treasure where others see trash, you might find furniture flipping, recycling, and upscaling is just the home-based business for you.
What You Need To Get Started
a) Thrift store, flea market, and dumpster dived furniture
b) Paints, brushes, stains, and tools
c) A website or other online selling outlet
3) Your Own Etsy Shop
If you're an artist, avid crafter, knitter, seamstress, or soap maker, you can start your own Etsy shop. The advantage of this home-based business is that it requires very little upfront investment, and puts the power of Etsy's search engines to work finding and identifying customers for you.
What You Need To Get Started
a) Supplies based on your chosen craft
b) A working knowledge of SEO
c) Shipping boxes and supplies
4) Personal Catering
Different from traditional catering that supplies food and servers for parties and events, personal catering means you cook, package, and deliver individual meals. Think of it as a home based business that combines the skill of a personal chef and the business savvy of a caterer.
What You Need To Get Started
a) Cookware and ingredients
b) Meal packaging supplies
c) A website with menus and meal choices
5) Home Based Franchise Businesses
Almost like having a business-in-a-box, a home based franchise can be an easy way to get started in a business of your own. A quick Google search will turn up dozens of home based franchise business opportunities. Check out these three we've identified for you:
What You Need To Get Started
a) Cruises Inc (initial startup cost – $249)
b) Chloe & Isabel (initial startup cost – $175)
c) Soul Purpose (initial startup cost – $25)
6) Freelance Writer
Few businesses are as inexpensive to start as the business of freelance writing. This home-based business lets you put your talent as a wordsmith to work as a writer, ghostwriter, copywriter or other content creator. You'll find plenty of clients and earn a profitable living as a freelance writer.
What You Need To Get Started
a) Laptop or desktop
b) Writing skill
c) Website or other online sales portal
Whether you're starting a home based business of your own from scratch, using established online portals like Etsy and Upwork, or buying into an established franchise business model, a home based business can be profitable and fun. It's a smart way to control your income, be present with your family, and master your future. Contact us today so we can help you start a business of your own.