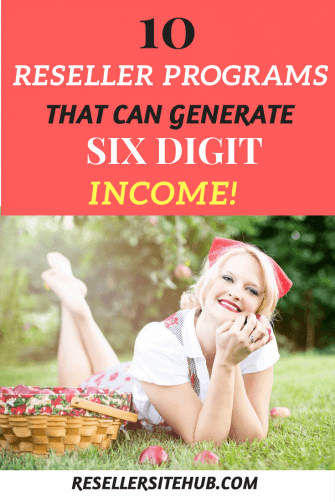 As an owner of the agency, you get to a point where you can't-do everything you would too. Clients demand new services, and it can be difficult to say no when there is no time. Hence the Reseller Programs come handy.
To say no to new work can often be a perfect choice. As a small company you should focus on what you do best, whether it is SEO, paid search, web development and many more.
That is where the reseller program can be the perfect partner for your agency. If you find the right ones and manage them well, they can:
Increase income and profits
Help make your business appear larger and more trustworthy
Make customers happier by offering more services
Be mutually beneficial for every party involved
The 10 Reseller Programs Includes: 
There are Several Resellers Programs in the Market. Even we at Reseller Site Hub offers hundreds of Services. I have just pointed few services that can generate six digit income. I have further broken these Reseller Programs or services to pieces to get the exact niche based customers.

1. Conversion Rate Optimization   
Imagine you are doing a good job with SEO and PPC – traffic is flowing – but it is not converting into leads. Fortunately, this could be addressed using conversion rate optimization (CRO).
Via regular A/B tests or multivariate tests, the speed of conversion optimization makes the most of the traffic you have already. A good thing about conversion rate optimization is that if done properly it can deliver fantastic returns for your clients. It means it can be a money-making venue, as well as make your other marketing efforts look better by giving more conversions. You can also offer this reseller program as part of SEO Service.
2. Website Speed Up 
Site speed is most times an overlooked aspect of the development of the web as well as online marketing in all. If you have not seen kiss metric's infographic on the speed of the site, it is well worth a look. The lowdown on the speed of the site is that it can make a big difference in conversion rates. Based on a study done, almost half of all users abandon a site that is not loaded in 3 seconds. 
Peradventure client's website is slow as a panda (Google joke), perhaps it is time to offer them a website speed up service. Run your customers website through the google page speed tool, Pingdom to find out. You can even use that infographic to make a solid case as to why they need to speed things up. Nobody likes a slow website. Hence it is your opportunity to expend the market with the Optimization Service. It is also a part of SEO Reseller Programs.
3. App Development
As you know, the popularity of apps has boomed in the last few years. Getting users to download an app is a perfect strategy to market your business since they have access that is easy to the app and you can as well send them to push notifications. Because of this, many companies are looking to have their app developed.
Build a fire is software which allows you to create a branded app with no development knowledge. All you need to do is choose a template, personalize the app then you are good to publish. It is easy to do and is just right for many industries including education, restaurants, as well as non-profits. It is easy to add other features such as loyalty programs and event calendars.
4. SEO Link Building   
Don't sell any SEO services unless you have personally know what you are talking about. However, It does not mean you should not resell the SEO Services. However, to make a six Digit Income, you need little knowledge about the Search Engine Optimization.
Don't get afraid. You do not need to learn anything about SEO. Just need to understand the SEO to communicate with your clients. Otherwise, Joining the SEO Reseller Programs and selling the SEO services can lead you to earn huge money.
Another option that you can take is to build your agency its blog network. People frown at this, but PBNs still work regardless of the naysayers.
If you are going the PBN route, sure to be transparent with your clients. Let them know what you are doing and why it may be a risky one. Like I said before, don't sell any link building services unless you have personal experience building links yourself.
Additionally, you can resell all the SEO Services services under the hood.
Read More :
Start a Business with White Label Website Reseller Program
What is a Website Reseller Program?
White Label Reseller Program We Offer
Become a Reseller and Make $5000 a Month by Reselling Digital Products
5. Content Creation
It is 2017 and time to step up your content offerings. "Good, unique" 500-word content will not move the needle – you have to make it 10x content luckily, there are some ways you can offer a content marketing service though you may not have the world-class talent in-house.
There is a great blog post that hires good bloggers. You can use his guidelines for finding a great writer and post a job on the pro blogger job board. There is tremendous opportunity in the market. Even though you are a Good Writer, you can always outsource the writing service to reduce workload. It is one of the best reseller programs that can generate huge money.
6. Social Media Management
Managing social media accounts can be a time-consuming process and may not be worth doing yourself unless you have plenty of clients that would want to have it done. In that case, you can hire a full-time social media manager; otherwise, it might be very ok sense to resell. Why we say, this is because social management is pretty cheap and smaller clients will not pay more than hundred dollars a month to have it done.
7. PPC     
We have had experience outsourcing PPC, and we have noticed the excellent approach is to get another white label marketing company to get the build setup, while you maintain and optimize the campaign. Setting up a proper PPC campaign can be a time-consuming process, but optimizing does not. Updating ad copy, monitoring search terms as well as adding negative keywords takes a few hours a month for smaller campaigns. You can also up-sell this service along with other reseller programs like SEO services.
8. Whiteboard Video Productions Reseller Business
This business comes with a supplier that is dedicated, so you do not need production skills. You just offer a service that provides whiteboard animation video for $500, and you can make $350 net profit.
9. Reseller Programs Specialized On Facebook Apps and Designs
It comes with a dedicated supplier. You do not need any designing skill. All you do is provide a service that gives Facebook Page designs and related services. It is a part of Social Media Management. However, you can sell it separately if you want to target only those customers.
10.Virtual Visitant White Label Reseller Program
It comes with a dedicated supplier which means you do not need any virtual assistant, admin service or even have a particular skill. Just resell the services under your own branding. The opportunity of the service is tremendous.
You will only provide a service which offers a virtual assistant for 40hours over a month for $400 you make a $300 net profit. That is only for one customer. You can make as little as $3000 a month with just ten customers. You can also set up each client on reoccurring billing.
Conclusions
I just listed 10 Services. You can resell these services individually or all services under the hood. Join Reseller Site hub to find more Reseller Programs that can generate seven digit income. It is the new way for a smart passive income with minimum effort and zero maintenance cost.